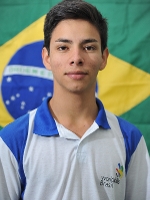 Mauricio Duarte Ferreira
Competitor in Skill: Visual Merchandising and Window Dressing
Country: Brazil

• How did you get interested in your skill?
A modalidade Visual Merchandising me despertou o interesse por envolver diversas habilidades, como, marcenaria, pintua, software e produção de moda.

• Where did you do your training for your skill?
Os treinamentos foram realizados em diversas cidades, como Manaus, Minas Gerais e Brasília, todos foram realizados em escolas sede do SENAI.

• How did you first find out about your Member organization and its programs?
Eu conheci a modalidade atráves do curso do SENAI, fui informado sobre a competição e a modalidade, e quando fui selecionado para ser o competidor, começamos a trabalhar o programa de atividades.

• Who influenced you to pursue your skill as a career?
No decorrer do treinamento, várias pessoas influenciaram, principalmente minha família.

• What is your experience in participating with your Member organization?
É uma experiência muito boa, o aprendizado e as habilidades desenvolvidas podem ser usadas para o resto da vida, é um conhecimento que não será esquecido.

• Describe your most memorable moment so far with WorldSkills?
Foi quando participei da SkillsFinland em Turku na Finlândia, uma sensação incrível por sair do meu país para competir em um outro país com outras competidoras.

• Describe what your experience has been since your involvement with WorldSkills
Tem sido uma experiência única e inesquecível, um crescimento pessoal e profissional muito grande. Acúmulo de experiências de vida. E isso é grandioso.

• Did participating in the skills competitions and training for WorldSkills help you progress in your skill? Please describe.
Sim ajuda bastante a progredir, pois o treinamento intensifica as habilidades e faz com que o aprendizado seja mais concreto.

• What do you currently do? Where do you work?
Atualmente apenas treino para a competição, retornarei ano que vem a universidade onde curso Design de Moda.

• What are your future career aspirations?
Futuramente irei concluir o meu curso de Design de Moda, fazer pós-graduação em Visual Merchandising ou Design de Estamaparia, firmar a minha marca de camisas e trabalhar no ramo da moda.



Profile in other languages: